Women may never make up half of the U.S. labor force.
Women accounted for 46.8% of the U.S. labor force in 2015, similar to the share in the European Union. Although women comprised a much larger share of the labor force in 2015 than in 1950 (29.6%), the Bureau of Labor Statistics projected the share of women in the workforce will peak at 47.1% in 2025 before tapering off.
For those women who do work, the gender pay gap has narrowed. Women earned $0.83 for every $1 a man earned in 2015, compared with $0.64 in 1980. The pay gap has narrowed even more among young adults ages 25 to 34: Working women in that age range made 90% of what their male counterparts made in 2015.
At the same time, women continue to be underrepresented in leadership positions in the U.S. In 2017, women make up 19% of the U.S. Congress and about a quarter of state legislatures; some 8% of U.S. governors and 5% of Fortune 500 CEOs are female.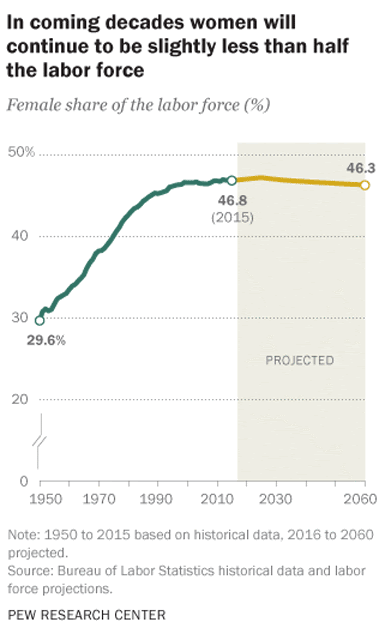 Read article on Pew Research Center