Adam Lella, writing for comScore's Insights blog, summarizes a recent report by comScore, The 2015 U.S. Mobile App Report.  Some of the report's insights focus on the digital habits of Millennials. Consumers 18-34 exhibit behaviors that differ from the digital behaviors of the general population.
Millennials spend 86 hours per month on mobile apps, which is 23 more hours than older consumers, and this report presents the apps with the highest concentration of Millennials, including:
-Yik Yak
-Venmo
-InstaSize
-BuzzFeed
-Tinder
-Snapchat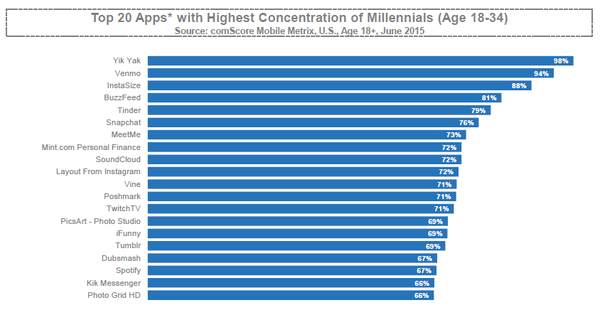 Most of the ranked apps have a social element to them.
According to Lella, "Perhaps the most important takeway from this analysis might be that Millennials tend to live more digitally-connected lives than older generations do."
See all 5 Cups articles.