A new analysis from Nielsen's 4Q 2016 Comparable Metrics Report found that over 92% of all viewing among U.S. adults (18+) happens on the TV screen.
The analysis focused on the share of total gross minutes of consumer viewing across TVs and TV-connected devices (e.g. Roku, Amazon Fire TV, Apple TV, Google Chromecast). Together they accounted for 92% of viewing minutes. The other 8% of viewing was generated by viewership of video on PC's, smartphones, and tablets.
While different viewing options continue to proliferate the viewing landscape, the analysis looked comparably at popular viewing platforms and found that all adult consumers still rely on the TV screen for the lion's share of their overall viewing.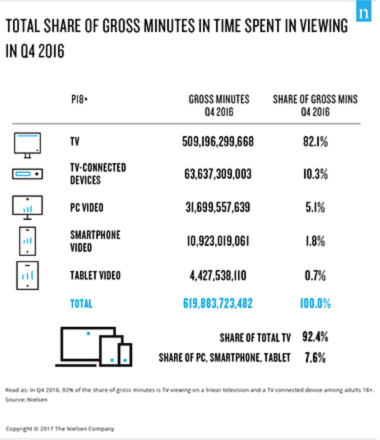 Read entire article on Nielsen